I apologize for the ugly appearance but it's the quality that matters, right? In my opinion, I think it's really nice and yummy (because I baked it) but the oreo is a lil burnt because I was playing with my dogs thus missed the timing.
(Please note : I have modified the recipe a lil bit)
Anyway, this is really easy!
To make the crust, you will need :
21 Oreos
1 tablespoon of sugar
1/4 cup of unsalted butter (Golden Churn)
To make the cheesecake batter, you will need :
1 pound of cream cheese (Philadelphia), softened
1/4 cup of sugar
1/2 teaspoon vanilla extract 2 large eggs, lightly beaten
1/2 cup sour cream
12 regular (I used regular because I want more chocolate hehe)/mini Twix chocolate bars
Preheat the oven to 275 degrees F.
Ignore the extra egg and extra packet of oreo, just follow the amount of ingredients needed as stated above :)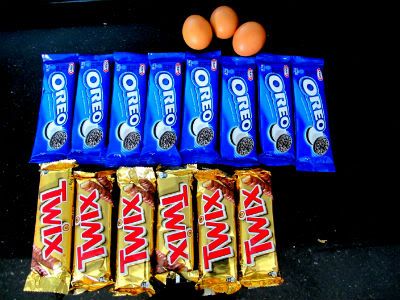 Let's begin with the steps to making the oreo crust.
Grind the oreos into fine crumbs in a food processor.
Put the crumbs into a bowl...
And add 1 tablespoon of sugar and mix it
Add 1/4 cup of melted unsalted butter and mix it using a mixer (I think it's faster this way)
Transfer the mixed oreo with unsalted butter to an aluminum cake pan and make sure the portion is even out.
Put the aluminum cake pan aside and start making the cheesecake batter.
The steps to making the cheesecake batter.
(Medium Low Speed)
Using a mixer, mix 1 pound of cream cheese until smooth then pour 1/4 cup of sugar.
Add 1/2 teaspoon of vanilla extract.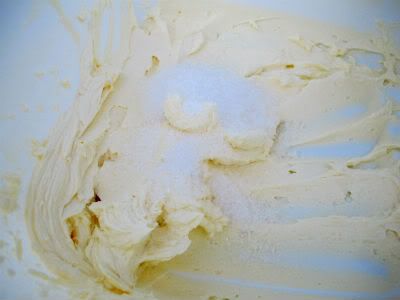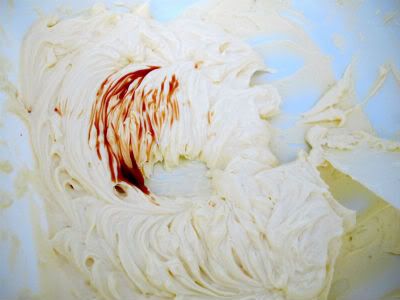 Whisk 2 eggs and slowly pour in (mixer still on low speed)
Add in 1/2 cup sour cream and mix.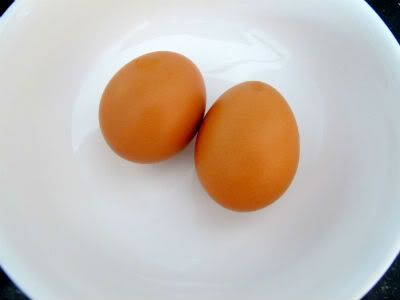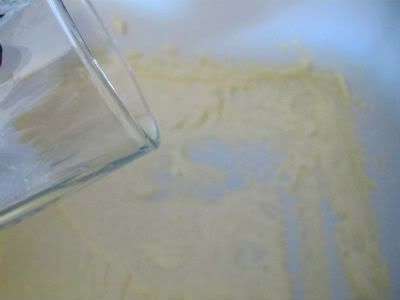 Chop about 12 mini Twix chocolate bars into small pieces (as shown below) and throw them into the bowl with the cheesecake batter.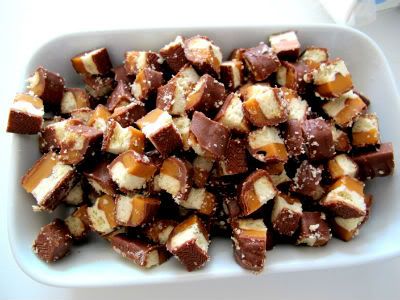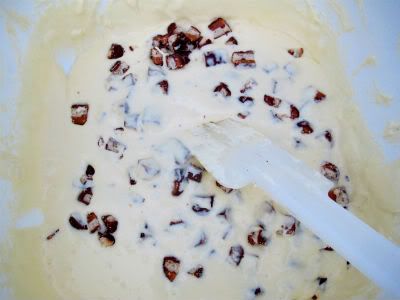 Pour the whole cheesecake batter on the aluminum cake pan (with the oreo as base)
Bake the cheesecake at 275 degrees for 30 minutes.
Chill the cheesecake overnight.
I will be looking out for more healthy recipes and share with you guys :)
Yeah I have to look for healthy recipe because my grandma had diabetes (so my family has to be careful) and I don't want to bake fattening cakes/cupcakes/cookies.
HAVE FUN BAKING! :D
Source of recipe : http://gingerbreadbagels.com
★ Joy Of Baking ★